I hope everyone has a safe, fun and spooky Halloween.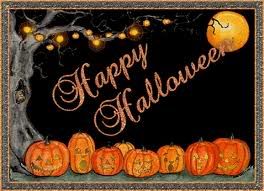 I won't be able to post my Halloween pictures until mid November. That's when I will have my wireless Internet. I'm using the blogger app now. Thank goodness for this app because I can't access the Internet on my desktop. My current provider has slowed it down to almost a standstill. Can't wait for the wireless.
Cooking a big pot of Chili, tonight. :) Happy Halloween!